Heavy industry, a major challenge for dimensional measurement!
Heavy industries operate on imposing scales, while demanding precision to a fraction of an inch
Amrikart is there when heavy industries need high precision. High precision industrial surveying is one of our specialties.
Wether for mines, dams, steel and aluminum plants, cement plants, mining and processing minerals, chemical industries, Amrikart has the portable instruments along with the expertise to ensure the most precise measurements and alignments.
We work in any kind of environment and ensure the highest possible accuracy.
Some of our achievements:
Roller alignments and machinery : molds | robots | complete structures
Furnace inspection and alignments – monitoring the condition of the bricks | rolling-furnace gear inspections | Furnace replacement
Alignment of motors-generators: verification of support bases | rotors-stators alignments | bearing cage and support block alignments | 3D scan and reverse-engineering of casings | flanges alignment
Inspections and alignments of overhead cranes
Rail leveling and alignment for CNC
Assembly simulations with digital twin
Alignments driven by 3D metrology
Inspection of pipe interiors and wall thicknesses for abrasion monitoring
Digitization and reverse engineering of existing machines or surrounding environment
AMRIKART : ESSENTIAL REFERENCE FOR CANADIAN STEEL PLANTS
CRANES
Amrikart inspect your cranes and structures :
Linearity and flatness of the rails

Parallelism and rail location

Rail shape

Level

Location and shape of the supporting pillars

Deflection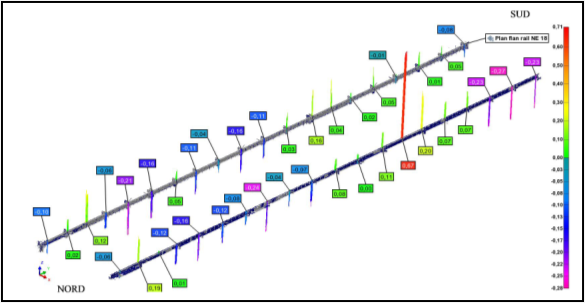 We are there for your needs in Pulp and Paper industry
Inspection and alignment of rolls in 6 degrees of freedom
Alignment of drive shafts, motors and gearboxes
Analysis of roller and contact surfaces by 3D scannings
Inspection, levelling and alignment of machineries
Installation and integration of new machines in existing production lines (upgrades, alignments...)
Colision and gap analyzes
Levelling, parallelism analyzes, positionning of cutting tools and conveyors
Assembly simulation by digital twin
Amrikart considerably reduces the installation time of machinery while ensurig a good assembly fit at first time through its assembly simulation method:
Inspection of each component of the assembly, independantly
Virtual simulation of the assembly with the measured data
Determination of reworks, gaps and collisions + verification of engineering requirements of the virtual final assembly
Rework of the components if necessary so that the assembly will meet the requirements
Live guidance of the final assembly to its best position determined by the virtual assembly.
To know more, consult our page about predictive assembly
Considerable Gains :
Time saving:

no need to pre-assemble and disassemble to rework anymore, assembly right on first time. Faster production restart!
Optimal and controlled quality : reworks are made directly where they are needed. They are all identified during virtual assembly and inspected before final assembly. Alignment is the best it can be.
Virtual assembly ensures that the assembly will meet engineering requirements even before physically performing it
Assembly right the first time and guided live by 3D metrology, no more rework during assembly